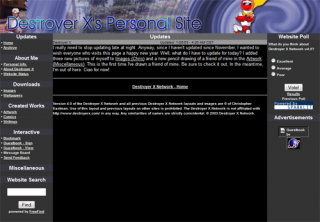 Despite the fact that Christopher Eastman.com was launched today, it's not my first personal Website.
Before the Destroyer X Network was shut down to redesign the layout and include a Website poll (to this day, I still haven't relaunched that Website, but I will be using a Content Management System for that redesign), I launched a personal Website called Destroyer X's Personal Site on February 17, 2002.  Destroyer X's Personal Site included my personal information, information about my Internet mascot – Destroyer X, my pictures, my artwork, fan-comics, and my poems.
Looking at the the Website on my widescreen monitors and viewing the source code (the entire Website was created by nesting tables within tables), it's amazing how far I've come as a Web designer.  When I designed the Website, it was done in HTML 4.01 Transitional and a limited amount of CSS, and with Christopher Eastman.com, it was created utilizing HTML5 and CSS.
All and all, I'm very pleased with the results of months of hard work, and as time goes on, I hope to make this Website entertaining and informative for my visitors.