Random Pictures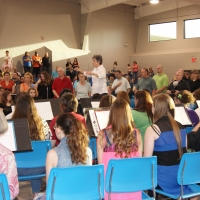 These were pictures that I took at the 2014 Glenpool Alumni/Community Concert. With the exception of one song ("Legend of the Ida Glenn"), I took pictures throughout the entire event and the reception. However, I did participate in performing "Legend of the Ida Glenn" with the rest of the band.
81 pictures were taken of the event, but I ended up deleting eight of the pictures.
I wish I had a detachable flash and a flash diffuser to decrease the amount of red eye in some of the pictures, but I removed what I could with Adobe Photoshop CS5.1. Anyway, I hope everyone enjoys these pictures.
73 Photos