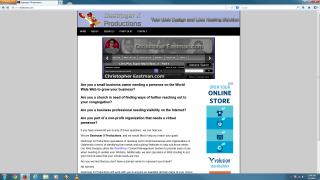 After the years of planning, researching different content management systems, and effort, I have finally launched Destroyer X Productions, my freelance Web Design and Web Hosting company.
For those who are unaware, I have been fascinated with owning my own Website since my freshman year of high school, and throughout high school, I have managed many Websites. When I first started, I launched Destroyer X's Cartoon and Video Game Information Home Page to serve as a portal of cartoon and gaming Websites that I would provide information for. Under the old Website banner, I launched the Super Mario Bros. Cartoon and Video Game Information Home Page, the Sonic the Hedgehog Cartoon and Video Game Information Home Page, and the Sailor Moon Cartoon Information Home Page (at the time, I was unaware that Sailor Moon was a manga and anime series).
Actually, I am not going to go into my complete Website history, but I'll post it on the site one day.
Anyway, aside from wanting to do something involving computers (ultimately, it led me to earning my Bachelor's in Management Information Systems), I wanted to either work for a Web Design firm (I still aspire to do that at some point) or start up my own freelance Web Design company. I am very happy to say that I have finally managed to accomplish that goal, and it is definitely a very proud moment in my life.
If you know of any small businesses, organizations, business professionals, etc. that are in need of a Website, I would ask that you refer them to Destroyer X Productions, and I will do everything I can to help. Currently, I am only accepting contract work in the state of Oklahoma, but I will make exceptions on a case-by-case basis.
I am very excited about this chapter in my life, and I cannot wait to see what will come of my newest business endeavor.
Thank you very much everyone for your support!