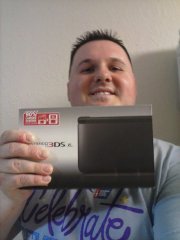 Today, Daniel Burch (also known as Entrant Number 73) received the Nintendo 3DS XL that was mailed to him for being the grand prize winner of the Nintendo 3DS XL Contest. I hope that he enjoys the Nintendo 3DS XL, and I would like to thank him for entering the Nintendo 3DS XL Contest.
Furthermore, I would like to, once again, thank everyone for making the Nintendo 3DS XL Contest such a success. I have to admit, I didn't think there was going to be that much of a turnout for the contest, but I'm definitely glad that everything regarding the contest ran smoothly.
I do plan on having another contest sometime later this year. At the moment, I need to come up with some ideas as far as what prize I would like to give away. However, before I can even start thinking of prizes, I need to get my credit card paid off first 😛
Anyway, thank you all so much for participating in the Nintendo 3DS XL Contest, and make sure to keep checking back for the contests I plan on doing in the future.
Note: Daniel's name and picture were used with permission.