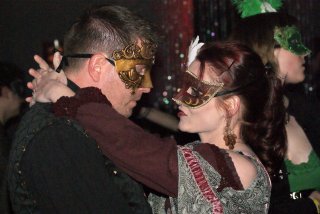 This morning, I finally uploaded all of the pictures that I took at the Assimilation: Valentine's Day Masquerade Ball. If anyone feels like checking them out, you can click on the hyperlink in the blog post to go to them or you can go to the Image Gallery and go the long way to get to the pictures.
At some point, I will add in some coding in the Image Gallery, Video Gallery, and Writings pages to where people can easily go back to a previous page instead of clicking all around the Website to get to their previous destinations.
As far as the pictures that are remaining to be uploaded until I'm completely caught up (the Tokyo in Tulsa – 2013 Halloween Party pictures), I've decided that if I'm going to upload those pictures, I'm might as well upload the Halloween pictures from 2011 and 2012. Furthermore, I should also also upload the pictures from the Tokyo in Tulsa Christmas parties from 2011 and 2012.
In short, those pictures will be uploaded at some point.
So, to recap, here are the remaining pictures that I'm going to upload in the future so I can be completely caught up on uploads (at least, before my convention season starts up again):
Tokyo in Tulsa's 1st Annual Halloween Party (2011)
Tokyo in Tulsa Annual Christmas Party – 2011
Tokyo in Tulsa – 2012 Halloween Party
Tokyo in Tulsa – Christmas Party 2012
Tokyo in Tulsa – 2013 Halloween Party
If you have a suggestion as far as what event I should take pictures at that's in the Tulsa, Oklahoma area, please feel free to send me an E-Mail from my Contact Me form.
Gallery: Assimilation: Valentine's Day Masquerade Ball Pictures